I've had a number of questions about what acrylics I have in stock for pen making. Unfortunately this is a bit of a moving target, as I often get new ones in, and some of the stuff I currently have gets used up with the custom orders.
However, for the sake of giving an idea of some of what's out there, and more specifically what I have in stock as of
April 3rd, 2014
, here are a couple of pics of my current acrylic, alumilite, and cebloplast stock.
Note that acrylics often have a bit of a polarity to them - they look a bit different depending on the angle you look at them. This is accentuated by the fact that these blanks are cut from flat blocks of cast acrylic. Thus, smooth side, and rough side. I have pictured the smooth and rough side of each so you get a better idea what the stuff looks like. Of course, it would be best to round each and show you that, but that would be a TON of work :-))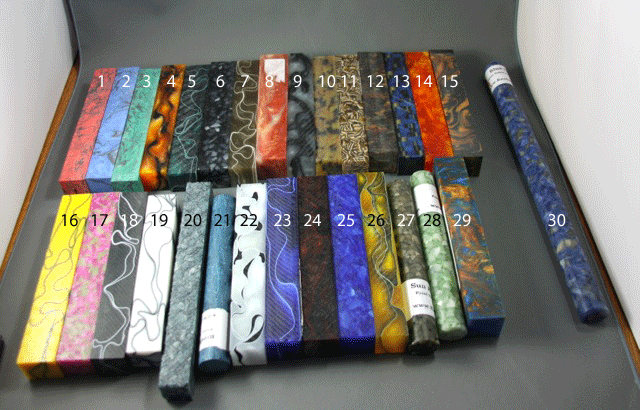 When referring to an acrylic you are interested in, just refer to the number on the photo.
Ken